Artist Lili Lakich exhibits more than 75 of her fine art neon sculptures in her 5,000 square-foot art studio and gallery in the Arts District of downtown Los Angeles.
The shimmering, pulsing, luminous vibrancy of neon gives the works of artist Lili Lakich a 21st century edge, despite the medium's primal appeal. Created over a period of more than four decades, her neon sculptures have brought expressiveness and a human dimension to this American art medium which is sometimes considered cold and commercial. Often highly charged with emotion and monumental in size, they are "like jewels salvaged from the modern world, transformed into icons of glistening beauty."
Lakich Studio serves as a design and production facility for ongoing neon art and signage projects and commissions. Lakich Studio conducts workshops in neon design and fabrication and provides a unique and dazzling ambience for parties and special events.
Lili Lakich has had numerous exhibitions on three continents and was the founding director of the Museum of Neon Art (MONA). Her signature image, Mona, pays homage to the Mona Lisa by artist Leonardo da Vinci, the single most important and recognizable work of art in the world.
All neon sculpture images © copyright Lili Lakich 2003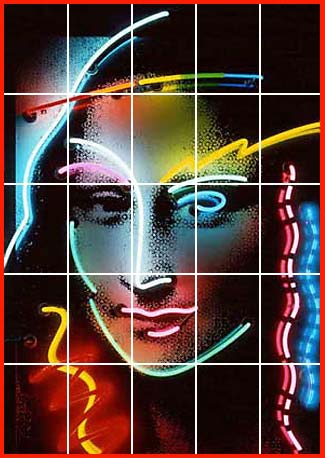 Modern Art Blitz interview of Lili by Mat Gleason
https://www.youtube.com/watch?v=N8JupM23T8k&feature=youtu.be