Lakich Neon Art Studio is the spectacular 5,000 square-foot Los Angeles studio and gallery of artist
Lili Lakich, internationally recognized as a pioneer in the art of neon sculpture. The former home of the Museum of Neon Art, of which Lakich was the founding director, Lakich Studio is an art world jewel, displaying over 65 of the artist's metal and neon sculptures plus works in progress.
A longtime favorite as a location for film, television, commercial and rock video productions, the neon-and-kinetic resplendent Lakich Studio is available for private events too—everything from intimate dinners to large office parties, fundraisers, live rock, electronica, and chamber music concerts, performances, corporate events, fashion shows, studio wrap parties, wedding receptions and more.
Scene from "Strong Medicine" on the Lifetime Network.
Example of a cocktail party area set up at the Studio.
Sweetheart and table.
Chuck Berry and tables in front gallery.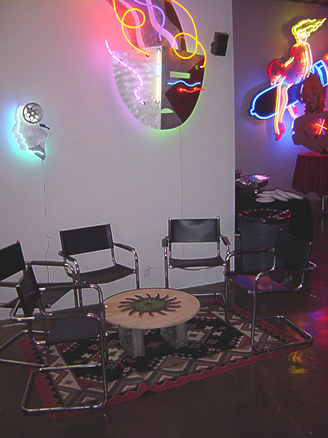 Cocktail setting.
Shake that drink!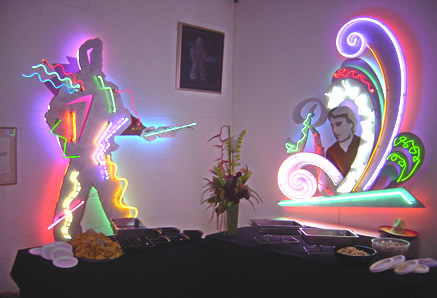 Looking toward back of main gallery.