In Self-Portrait with Blonde Bombshell from the series "Self-Portraits with Bombs and Blonde Bombshell," the same metal and neon portrait of the artist is juxtaposed in front of a woman straddling a black bomb with brilliant orange flames animating from behind. The woman's red dress flies up and her blonde hair flutters in the wind.
As in Self-Portrait with Spectre, neon tubes rotate furiously at the artist's breast. The halo around the head reflects her Byzantine heritage (she is of Serbian ancestry as is Nikola Tesla, the inventor of AC electricity) and refers to the martyrdom of lives that are destroyed in times of war or even by devastating personal relationships. Lakich completed Self-Portrait with Blonde Bombshell in early March of 2003, just a week before the U.S.-led invasion of Iraq.
"This work is my reaction to a relationship with a real, live blonde bombshell," says Lakich. "When she complained that I didn't "get" her, I told her that she had been "gotten" from before she was born. But she was absolutely right. I didn't "get" how anyone could spend so much time, energy and money to become a stereotype. And it created an irreparable breach in our friendship. While this image was taken from a 1940s matchbook cover, the likeness to the woman I knew is remarkable."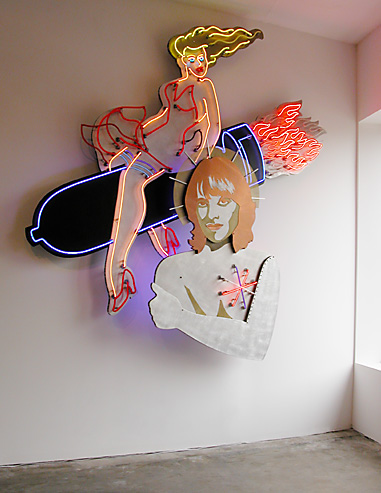 SELF PORTRAI WITH BLOND BOMBSHELL, 2003
Aluminum, copper, brass, glass tubing
with argon and neon gases,
animator 110 x 106 x 13 in (305 x 216 x 33 cm)
Sculpture Animation (night)