The glass tubes of straight lines and partial circles of Donna Impaled as a Constellation act as intersecting lines connecting stars. The varied intensities of light which Lakich produces through combining the pale shades of krypton and argon gases and the hot colors of neon, argon with mercury and helium seems to set the viewer at a remote distance from the sculpture while simultaaneously pulling one into it.
Nicholas Moufarrege described the effect in Arts Magazine: "Lakich insists on the elusive attraction that draws the viewer to the neon. The light shines into the space between the work and the viewer and bridges the gap. Her pieces are yet another extended embrace, magical and mysterious, their love spans mobile moment in time; like the lights of distant stars, they shine even when night is done."
DONA IMPALED AS A CONSTELLATION, 1983
Aluminum, copper, brass; argon, argon with mercury, neon, helium, krypton gases in glass tubing, neon crackle tube. 100 x 66 x 10 in. (254 x 168 x 25 cm)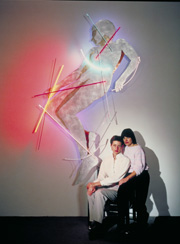 Artist and muse Donna Tracy.