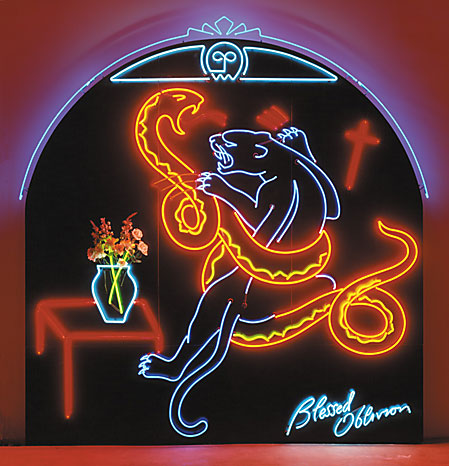 Blessed Oblivion has become one of the artist's most celebrated works. It was exhibited continually in the Museum of Neon Art for many years and then traveled to Japan and five U.S. museums as part of Lakich's traveling exhibition between 1988 and 1991.
In 1988 The Touko Museum of Contemporary Art in Tokyo wanted to purchase the work for $100,000, but Lakich wouldn't sell it. "It needs to stay in America," she says. "Blessed Oblivion has meant so much to so many people here that a different country may not appreciate its cultural significance."
The artist labored for over a year on the monumental work in her Fountain Avenue studio. She saw it as both her tombstone and a commemoration of her four-year relationship with Gayle Rendleman. In the allegory, Gayle is the panther, Lakich the python. The sculpture represents their breakup in 1974.

BLESSED OBLIVION,1975
Painted steel, plastic flowers, neon and argon gases in glass tubing.
126 x 108 x 12 in (320 x 274 x 30 cm)
"I created Blessed Oblivion in 1975 as my tombstone. It incorporates a sailor's tattoo, which I had photographed at The Pike in Long Beach, as the central image below a death angel taken from a New England gravestone. I got the title from a tattoo that was on the arm of an actor who was in a film that was shot at my studio. The tattoo on his forearm read:
"BLESSED
BLESSED
OBLIVION"
Since it was a tombstone it needed a cross, so I added the cross. But for nearly a year I couldn't figure out what to put on the left side. I drew in many different images; nothing worked. Then one evening some friends came to my studio for dinner and brought me some orchids. I took one look at them and pasted them onto my sculpture. I then created the vase and table to hold them, and replaced the dying orchids with plastic flowers which I bought at the five and dime. The sculpture was finished at long last."
—Lili Lakich
from Neon Lovers
Glow in the Dark