expression of "rage, rage against the dying of the light" that is mortality.
Lakich's formal concerns come to the fore in a series of portraits that she describes as a collection of lines that have been assembled into minimal codes for the human face. Color and line cohere in the idealized portraits titled The Sorcerer and Holy Ghost. Sidewinder is a more symbolic portrait whose simple lines are used to capture the spiritual ethos of its living subject. Donna Impaled as a Constellation (1983) is a large-scale spiritual portrait of Donna Tracy that reflects the cosmological concerns of its subject by its use of a series of intersecting lines connoting the heavens. Here Lakich points out similarities between connect-the-dot puzzles, the constellations and the construction of an image in neon.
A key piece in the exhibit is Elvis (1985). In it the iconic value of neon is joined to the representation of a human social icon. The large aluminum and copper cut-out shape is embellished with relatively simple angular neon lines that blink back and forth to convey the kinetic energy of rock and roll. Another musician is the subject in The Ghost of John Coltrane (1985), an atmospheric portrait that conveys both the spiritual character of its subject and the improvisatory freedom of jazz.
Over a hundred works in this show, including drawings and mixed-media constructions, trace the evolution of Lakich's art from the relatively simple applications of neon in the 1966 abstractions Purple Heart and You to the full-blown mastery of her later works. The Museum of Neon Art was founded by Lakich in 1981 to exhibit, document and preserve electric and kinetic art forms. But the esthetic legitimacy of the medium is a given in Lakich's own work; looking at her pieces, one moves beyond the medium itself into an expression of the human condition.
"SPECTRAL PSALMS" by Ray Zone, published in ARTWEEK March 8, 1986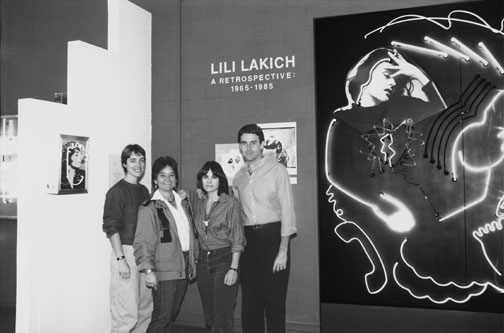 Mary Carter, Gayle Rendleman, director of the Museum of Neon Art, Lili and Richard Jenkins after installing Lakich's retrospective in 1985.
One measure of an artwork's power is its ability to evoke an emotional response in the viewer. This humanistic parameter of art is achieved by the works of Lili Lakich in her twenty-year retrospective, titled Neon Lovers Glow in the Dark, on view at the Museum of Neon Art (MONA). Laboring with potentially recalcitrant materials such as neon, argon, stainless steel and copper, Lakich has shaped them to utterly personal ends and tapped into an emotive human ground that is surprising, considering her technological medium.
Lakich's sensibility is eclectic and painterly. A diversity of influences, ranging from medieval religious icons and kachina dolls to tattoo imagery and comic-book symbolism, can be seen in her world. But this visual lexicon has been channeled through the artist's hand and mind to produce works that constitute concise emotional autobiographies. The subject of Lakich's work in not her medium but her humanity. It is the spiritual quality of neon light that interests her, and she paints with it upon her reflective canvases to illuminate matters of the heart and soul.
The personal character of Lakich's art is encountered with the first piece one sees upon entering the exhibition, a large work titled Don't Jump Up and Down on My Toes, You Loved Me Once, You Know (1972). A black and which photograph of a female junkie taken from Life magazine serves as a starting point for a kinetic narrative whose complex circuitry culminates in the image of a broken heart. This work, like others throughout the exhibition, is accompanied by notes detailing the genesis of the piece.
The artist draws upon tattoo iconography for a large-scale work titled Blessed Oblivion (1975), a piece she describes as a "tombstone for the living dead"—those who never attempt to do something significant with their lives. In it, a blue angel of death looks down upon a panther and a python entwined in battle. This piece is a visual hymn, a spectral psalm. Its symbology transcends culture, and it is imbued with a compelling breadth of emotion. The large Scar (1974), with its images of a panther derived from an embroidered army patch and a skull and crossbones, is a moving